A few days ago, with only a short space of time available, I pulled out one of my ongoing art journals, opened it up and proceeded to spend much of that time staring at a blank page…
At times like this, it's best just to begin adding something – paint, marks, images – whatever moves me past that "blank page" syndrome. Usually the muse will stir and say, "Hey – look who's here! Haven't seen you for days!" (She's very kind and gentle about this, but clearly makes her point ;).
Yes, showing up in my studio every day is a discipline I've let slide. Doing the 365 mini-rolodex project kept me on task, but my ART-preneurial work is taking more time than I'd like, and leaving less time for actual art-making.  It can be a tug-of-war…and requires a deep shift in my thinking. Because….  
My art IS my work!!
So, I pulled out my pile of calendars to see if there was an image I could quickly tear out and use as a background. I've been keeping calendars for years – the images are beautiful and I just can't bring myself to toss them at the end of the year. They become part of my art-making stash, tucked away to be used in some future work.
A calendar of Goddess images featuring the artwork of artist Helen Nelson-Reed, caught my attention. I ripped out January's image and cut it into strips so that it would stretch across the page, with the idea of leaving space in between for journaling.  With glue stick in hand, I turned each strip over and adhered them one at a time….and then stopped mid-air…
…as my eyes settled on a calendar entry marking my 43rd birthday, and then to the quote in the margins, "Own your own love like you would own your own power."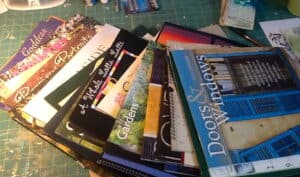 I started flipping through the other months, noting the appointments, travels, birthdays and other important events penciled in.  Cast your memory back to the year 2000; remember all of the end-of-the-world predictions and fore-boding of disaster (i.e.Y2K) leading up to it??  
Crazy stuff, but we're still here and the years since have passed in what feels like the blink of an eye.
"Well I'm not the kind to live in the past,
the years run too short and the days run too fast,
the things you lean on are the things that don't last,
Well it's just now and then my mind gets cast into these
time passages."  ~Al Stewart