If you've been following my posts for any length of time, you'll know that I've been using the 'choose a word to guide me' exercise for some time. However, this year just wasn't working – no 'one word' was coming. Instead, many words presented themselves, and since there's no hard and fast rule to this exercise, I decided to embrace them all.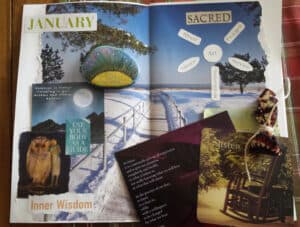 On the first day of this new year, I sat down with images and words and collaged my intentions for the month ahead. 'Listen' was my chosen word (yes, once again!) and I gathered items to add to the little altar I'd created on my window ledge. A stone was painted, and my releasing bundle prepared. Both came with me on my celebratory birthday trip to California.
It was great fun road-tripping with my long-time friend, beginning in Palm Springs, through Temecula, and on to our final destination in Carlsbad, CA. Though it proved to be more difficult than I thought to find a place on the ocean within our budget, the resort we stayed in was perfect – easy walkability to restaurants, shopping, and most importantly, the beach.
AND, as an added bonus, my brother and his wife drove from their snowbird winter home in Yuma, AZ to join us at the resort for several nights.
I wasn't intending on bringing my bundle with me, but the days preceding the trip were so cold, and the thought of trying to shovel away snow to build a fire in the chiminea just didn't appeal. Besides, it seemed important it be done on my birthday. So, after a celebratory birthday dinner, my friend and I headed down to the beach to catch some stunning sunset photos…and my bundle was buried deeply in the sand.
The week passed much too quickly. We had sunny days, overcast skies and rain, but that didn't stop us from having a great time and creating some wonderful memories. On our last day, we took a final walk along the water's edge, darted incoming waves, and dug our toes into the sand, both of us lost in our own thoughts. Giving thanks for all the blessings life has brought our way, and especially a friendship that has spanned 45+ years.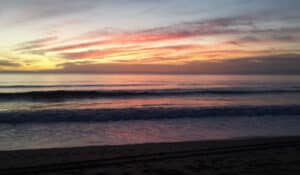 Listening to the ocean's roar… and remembering its song now that I'm back in my prairie home.
"In the practice of our days, to listen is to lean in, softly,
with a willingness to be changed by what we hear."
~ Mark Nepo