I'm in the process of clearing off bookshelves, but letting go of books has always been hard for me. Specifically, I'm talking about 'the keepers': those books that were magical and/or transformative at the time, but read so long ago that I can barely remember the 'why?' or story behind them.
And, then there's what I refer to as my Pandemic Pile – a stack of TBR books that never seems to go down (because there's always a new, good book recommendation that I just have to buy). 
"To cross the threshold of a book is to make a journey in total time. I don't think of reading as leisure time or wasted time and especially not as downtime. The total time of a book is more like up time than downtime, in the way that salmon swim upstream to get home." ~ Jeanette Winterson

I stumbled upon some amazing book-reading journals last year, and decided this might be a fun way to keep a record of my own reading journey before I let them go. Here's an example page featuring the book, We Are the Ark by Mary Reynolds: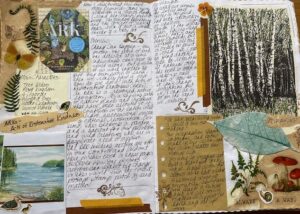 The two-page spread includes a synopsis of the book, characters, quotes, my thoughts, and images that are meaningful to the story.
I like the idea of a monthly Reading Journal Group – want to join me??