This was a fun project, hosted by Tina Walker, and included many participants who were given the same products (sponsored by Beacon Adhesives, Amazing Casting Products, and StencilGirl). Signing up for this sort of collaboration challenges me – in a good way! – but I have to confess I was very pressed for time and didn't think I'd make the deadline.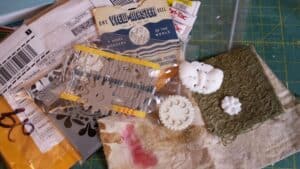 The package contents included all sorts of interesting bits and pieces, and I knew I'd create some sort of book so that I could highlight a few items on each page. 
Thanks for putting this together, Tina Walker, and to all the other artists who joined in on the fun. Though I was too late to include my pages, it was great to see all the amazing creativity from others – wow!!